Our Favorite Ways to Celebrate St. Paddy's Day in Bucks County
Known today for its green beer and raucous pub crawls, March 17 was first designated as St. Patrick's feast day in 1631 to acknowledge the bishop's contribution to spreading Christianity throughout Ireland. Centuries later, the modern-day American interpretation has been heavily influenced by Irish immigrants, especially those who arrived in the 18th and 19th centuries. Because March 17 often falls during Lent, restrictions against drinking alcohol are lifted during the holiday, which drove the popularity of consuming beer and Irish whisky during St. Paddy's Day celebrations to a dizzying pace.
Pennsylvania has long been a destination for Irish Americans. In fact, the first St. Patrick's Day Parade was held in Philadelphia in 1771, five years before the signing of the Declaration of Independence! According to the Census Bureau, 22.9 percent of Bucks County residents claim Irish heritage today, making it the most popular ancestry in the county. Whether you're Irish through and through or Irish for the day, there are several great places to celebrate St. Paddy's Day in Bucks County. Sláinte!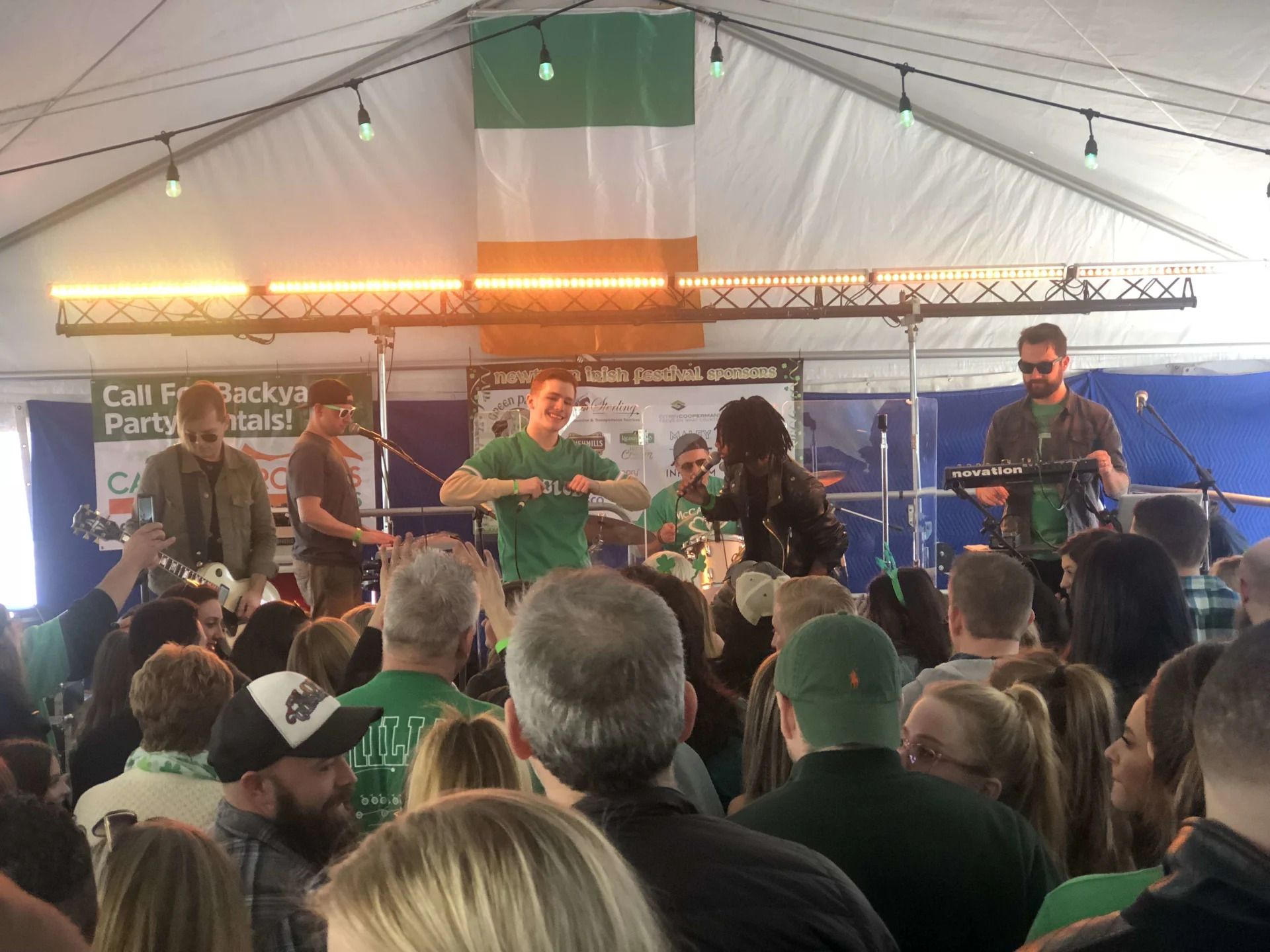 Newtown
In Newtown, runners will want to sign up for the Seventh Annual Shamrock Shuffle 5K taking place on Saturday, March 11. After the run, racers are invited to keep the party going at participating Newtown restaurants, bars and shops. From March 9 to 19, The Green Parrot restaurant will host the annual Newtown Irish Festival with an array of Irish music and dance performances, plus food and drink specials. The 2 week long celebration end on Sunday, March 19 with a performance from our favorite local band, GoGo Gadget. If you need a break from the festivities, the Sycamore Grill offers indoor and outdoor seating right across the street. Or head to Crossing Vineyards for special wine pairings, craft beers and live music on March 18 and 19.
Yardley
Head to Yardley's Shady Brook Farm for two exciting, family-friendly unWINEd Weekends happening March 10-12 and March 17-18. Each weekend will include live music, Irish food, locally brewed craft beer, spirits and wine from Rosa Winery in the heated barn and tent, plus outdoor activities for kids, weather permitting.
Doylestown
Family-friendly St. Paddy's Day fun awaits at the Barn Nature Center, where Golden Coin Guided Tours invite you to meet the center's many animal friends while searching for the golden coins the leprechauns have left behind.
Lahaska
Kick up your heels on March 12 during the Shake Your Shamrock Fun Run, kicking off at Lahaska's Pedder's Village. With 8K and 5K distance races, a Little Leprechaun half-mile race, and a Pot o' Gold 2-mile walk, there's an event for everyone to enjoy! Peddler's Village will also be the site of fantastic Celebrate the Green events and entertainment on March 17-19, including a children's leprechaun hunt, bagpipe performances and Irish dancing. Head to Buttonwood Grill, Cock 'n Bull Restaurant, Earl's New American and Hart's Tavern to enjoy fantastic drink and dining specials.
Levittown
In Levittown, the Ancient Order of Hibernians will host a St. Patrick's Day parade followed by a classic hoolie. A local tradition since 1989, the parade will run along New Falls Road. The hoolie held at the Bristol AOH hall will feature The Broken Shillelaghs band and a complementary Irish buffet.
Sellersville
Barleyjuice, one of the country's most admired Celtic bands, will perform a St. Patrick's Day concert at Sellersville Theater on March 17. Billed as "the absolute best time you can have at a concert without removing your kilt," the band features an array of classic Irish instruments, including bagpipes and fiddle, plus plenty of bluegrass, country and classical inspiration.